You've finally got hold of that pink flamingo float that's everywhere on Instagram. You've even persuaded your neighbours to let you borrow their pool one afternoon so you can float around pretending you're Paris Hilton. It's selfie time… But, with suncreamed fingers it's hard to get a good grip of your phone as you extend it precariously above the water… Below we have the solution: 3 tips on making your tech BFF waterproof.
1. The Batman option
The best and most obvious solution is to use a waterproof case. These are easy to find in stores and online and have the advantage of being super simple: you clip the case onto your phone, shut the port covers and voila.
The disadvantage is the aesthetic: these bulky accessories won't be discreet.
Expect an army look with thickset black rubber.
Models for most recent smartphones (iPhones and others) will cost about €50.
2. The landlubber option
Remember the years you spent sailing in an Optimist or — if you were lucky — on your uncle's fishing boat? You will have definitely seen one of those transparent airtight pouches that were used to store money and papers.  Well, they're back, and this time they're also being used to hold our tech toys.
Perfect for anyone with a phone that's an unusual size (or ugly!), these pouches can be bought in sports and gadget shops and won't break the bank, costing about 15 euros. This means you'll still have enough to fund the next diabolo tournament.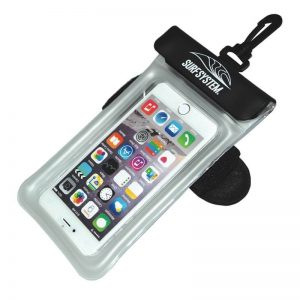 3. The low-cost option: the freezer bag
Spent all your money on apple turnovers? Totally disorganised? Addicted to online tutorials and other DIY? We have the solution.
If you haven't been able to kit yourself out properly to protect your phone, there is always the freezer bag option. Yes, you read that right! These little bags hold your sub-100 ml liquids when you go through airport security and, miraculously, can be reused on the beach!You just need to put your favourite object in the bag and close the zip, leaving 1 cm open. Make it airtight by sucking the air out with a straw, then fasten fully.
Not sure you understand? Follow the masses of video tutorials online.
But be careful: don't run the 100 m with your homemade pouch. It's just for accidents and can't be entirely trusted (and there's no point bringing yourself bad luck, is there?!).