If you're looking for a new mobile, you might want to consider going the Chinese route. Chinese smartphones have made it to the top when it comes to world mobile phone use with three main manufacturers which have really shone on the international stage in the past few years – Xiaomi, OnePlus, and of course Huawei. The big three offer top of the range phones along with competitive pricing, but what sets these three Eastern giants apart from the rest?  
Considered by some to be China's hottest hardware company, Xiaomi was founded in 2010 by Lei Jun and creates a wide range of hardware, software, and internet services. With more than a billion dollars in annual revenue, the company has partnered with more than a hundred startups and can offer a wide range of hardware including smartphones like the Xiaomi Mi.
The Mi Note Pro offers an impressive 108MP camera for photography enthusiasts and selfie-addicts alike. The Note 8 features a 64MP Quad camera. Needless to say, they have rear camera functions along with some great photography options for all levels of skill from point and shoot to the more advanced.
The OnePlus company is based out of Shenzhen, Guangdong China. In December of 2013, it was founded by Pete Lau (CEO) and Carl Pei, and although it is a relatively new company, it has a tasty market share which covers 34 countries and regions around the world as of July 2018.
The Oppo Vivo Realme 5 Pro (say that after a few drinks) is another great smartphone from the Oppo Vivo company which is owned by OnePlus. This small company produced a phone (the Realme 5 Pro) which is powered by 10 nm octa-core Qualcommon Snapdragon 712 AIE processor, with a 48MP AI Quad Camera, 6.3-inch FHD+Mini-drop display, dual camera, 4 GB RAM and a 4035 mAh battery which gives more standby time than ever and greater battery life.
This Goliath of a company has smartphone shipments by increments of a million units. Known as Huawei Technologies Co., Ltd. it is a multinational smartphone company that is also based out of Shenzhen, Guangdong, China. Founded by Ren Zhengfei in 1987, Huawei started out manufacturing telephone switches before moving on to smartphones and other electronic devices.
It is just behind Samsung in the manufacture of its devices, while it actually produced more smartphones and other smart devices than both Apple and Ericsson. Its 2019 revenue was around US$121.72 billion. It would be easy to guess that at least a million smartphones have come off its production line over the years.
Lenovo has been in the business of creating smartphones since 2012, and it is only a small portion of the electronics produced by the company; in 2014 they were considered the largest vendor of smartphones within mainland China. You can find models such as the Lenovo Moto G5 Plus 32 GB (Dual Sim) at significant savings on Back Market.
You might not associate Asus with cellphone manufacture, but they do have a division that creates smartphones for consumers. Founded in 1989 this Taiwan company is known mainly for computer hardware and electronics. Some of its smartphone brands include the Asus Zenfone 5z 64 GB.
If you want to go a little less mainstream or spend a little less on a Chinese mobile, there are other popular Chinese phones offering mid-range to high tech options. Fingerprint sensor, facial recognition, wireless charging, options abound from companies such as Doro or Caterpillar. You may not have heard of them before, but they are doing a great job keeping competitive with the bigger Chinese smartphone companies, and more often than not, at a smaller price.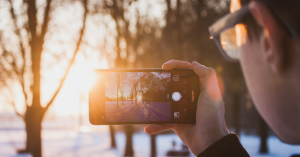 What will the smartphone market look like in a few years?
Chances are good it will be dominated by the high quality and innovations which Chinese smartphone manufacturers bring to consumers. We may see less of brands such as Apple, Samsung, Ericsson and more of the Huawei, OnePlus, and Xiaomi. Some of the reason they are able to produce so well has to do with established manufacturing plants, and also the fact that the minerals such as copper, zinc and titanium, which go into the phones, are found naturally in parts of China.
What makes a Chinese smartphone a good buy is the fact that they are well tested in their home marketplaces before going worldwide. When a manufacturer is creating a product on a regular basis for a mass market, a lot of phones are produced and tested in a short period of time. Companies in China tend to have rigorous testing metrics for their manufacturing lines, and the experience with each model, lets these companies rapidly learn and adapt to what needs to be enhanced or changed from one product line to the next.
With all this in mind, it's likely we'll be seeing these and other Chinese smartphones, becoming more commonplace in the UK (and the west as a whole) in the near future.